Amazon Kindle accessories
|
The iPad really is making some big changes in the world of e-readers. Other manufacturers are scared of the competition and are making a number of big changes to their products in order to stay competitive. Amazon have recently given their popular e-book reader a make over. They've given the latest version a clearer screen,  made it smaller, lighter and most importantly, more affordable.
The latest generation Amazon Kindle is easily going to be the most popular Kindle to date and will no doubt give the iPad and the Galaxy Tab a run for their money – especially on the run up to Christmas.
The new Kindle has only been on sale for a few weeks, but we've already managed to source a range of great Kindle accessories that will really help you make the most out of the e-Reader. If you're getting or have recently purchased a new Kindle, there are two accessories that you will want to buy straight away, so to get you started, I've highlighted a few of my favourite Kindle Cases and Kindle Screen Protectors below.
Leather-Effect Book Case for Amazon Kindle – Black
This is one of our most popular cases for the Kindle. It's available in a choice of colours and does a great job of looking after your e-Reader. Your Kindle is held in place by two stitched loops at the base and two elasticated loops at the top. The outside of the case looks like textured leather and the inside has a velvety feel to prevent any scratches. There's a pocket on the inside of the cover that's perfect for travellers who need to keep their bus or train tickets handy.  There's also a magnetic fasting on the case to prevent your Kindle from falling out. It's lightly padded too, so if it's in your bag you won't need to worry about it getting knocked about.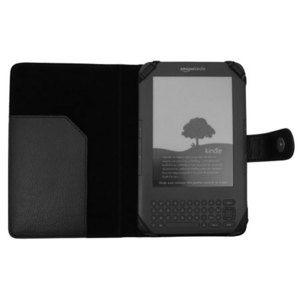 M-Edge Latitude Kindle Jacket – Blue
Given the choice of any Kindle case, I'd go for an M-Edge Latitude case. They're tough, they look good and they do a great job of keeping the Kindle in one piece. They are made from a nylon canvas, have a zip fastening and a really soft microfleece lining. Like the Book Case above, the M-Edge case holds your Kindle in place using 4 elasticated loops – one on each corner – that leave the keyboard fully accessible. One of the things I'm not so keen on with 'book style' cases is that when you're holding them, the open flap can often get in the way, making it uncomfortable to hold. You don't have that problem with the M-Edge Kindle case as the cover folds right back on itself and can then be zipped back up making it much easier to hold. On the back of each Latitude case there is a small zip pocket that's designed to hold your reading light or Kindle charging cable. On the subject of Kindle reading lights, the Latitude case has a stitched in pocket that's designed to hold the M-Edge E-Luminator reading light.
MFX Screen Protector – Amazon Kindle
The screen of the Kindle has been improved significantly over previous generations, so it makes sense to invest in a screen protector to keep it at it's best as even the smallest of scratches can spoil the reading experience. The MFX Kindle Screen Protector is precision cut to size to fit the new 6″ display of the Kindle. It's crystal clear, doesn't affect readability and can be removed quickly and easily without leaving any residue behind.
Fitting them is extremely easy. they come with a protective film on both sides of the screen protector, so you'll need to remove a thin film, apply the protector to your device and then remove the final film once you've squeezed out all the air bubbles. Don't try to remove the paper labels as this will make removing these films really tricky!