The best Samsung Galaxy S screen protector – user guide
|
Here's a quick run through of all of the Samsung Galaxy S Screen Protectors.
12 in 1 Universal Screen Protector Pack
Value wise, you won't get more for your money with any other screen protector. This pack includes 12 screen protectors and a cleaning cloth. The downside is that the screen protectors aren't cut to size. Not too big a deal on traditional phones, but with flat fronted touch screen phones like the Galaxy S it can be a bit of a nightmare to cut around the speaker and other buttons without making a mess of it.
The pack includes a mix of plain, mirrored and privacy screen protectors.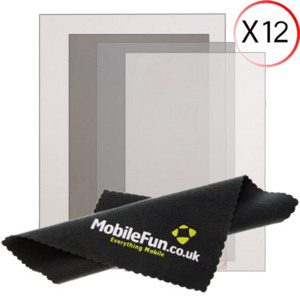 MFX Screen Protector – Samsung Galaxy S
MFX are the entry level range of Galaxy S Screen Protectors. They include a cleaning cloth and a cut to size protector for the front of your phone. I get loads of questions from people on how to fit these as the instructions are a little thin. The screen protector is sandwiched between 2 protective layers, so when you come to fit it don't try to pull the paper tabs off as this will leave a mess on the protective layer and make it tricky to expose the actual screen protector!
The screen protector is exceptionally clear, won't distort the colours in the display and can be removed without leaving a stick residue behind. They last pretty well, but will last longer if you keep the phone in a case as this will help prevent the edges from coming unstuck.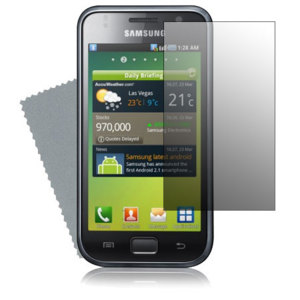 Mirrored Screen Protector – Samsung Galaxy S
Mirrored Screen protectors have two purposes, first and foremost they protect your screen from getting scratched and secondly they can turn your phone into a mirror. Just like the MFX ones, these are precision cut to the size of your Galaxy S and are extremely easy to fit. When your phone is in use and the screen is lit up you can see the phone normally. When it's not in use the reflective coating on the screen protector turns your screen into a mirror.
The only downside is that they do slightly alter the colours on your phone's screen.  You can still see clearly enough for calling, texting and emailing, but they can make looking at photos and videos more difficult and are probably suited to those of you that use your phone more for texting and calling. They do attract finger prints quite easily too, so a Mobile Phone cleaning cloth is a must have item if you use a mirrored screen protector.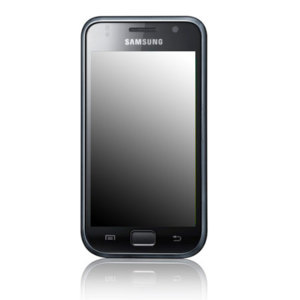 InvisibleSHIELD – Samsung Galaxy S
The last of the screen protectors then is the InvisibleSHIELD. This is available in two options, a Full Body Protector and a Screen Protector. They're a very different type of screen protector to the others mentioned here. Instead of being a solid plastic sheet that clings to your screen, InvisibleShields are made from a soft flexible plastic film that sticks to your handset. You spray the InvisibleShield with a special solution and then place it on your phone. It dries in seconds and when you remove the InvisibleShield from your phone it leaves no residue behind. Of all of the screen protectors here, these are probably the most secure fit to your phone and there is no chance of you catching a corner and it coming off.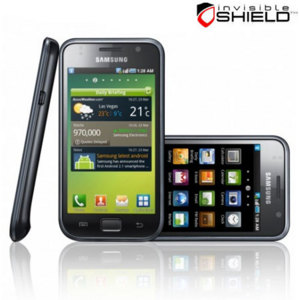 They do require a little more time and patience to fit, but the end result is well worth it. The Full Body Protector covers the screen, back & sides of the phone, where as the InvisibleSHIELD Screen Protector screen protector just covers the front of your device.
Martin Fields Screen Protector – Samsung Galaxy S
The Martin Fields Galaxy S Screen Protector is without doubt the best quality screen protector you can get. They're crystal clear and will make your phone look like new. They don't reduce the clarity of your screen and colours look exactly the way they're supposed to. If your screen protector gets dirty, they can be removed easily from the phone, cleaned and refitted. They are available individually or in a twin pack.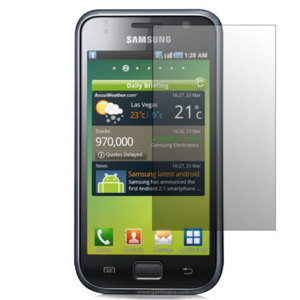 If you're looking purely to protect your screen, then you won't go wrong with either a Martin Fields Screen Protector or an InvisibleSHIELD. There's not much between them, although the faster fitting time will probably make the Martin Fields a better option.  Of all of them, I've scored the Mirrored one the lowest, but that's mainly down to how much it changes colours on the screen. In terms of fitting and protection it scores the same as the other MFX Screen Protectors.
My Ratings:
Martin Fields – 9/10
InvisibleShield – 9/10
MFX Screen Protector – 7/10
MFX Mirrored – 6/10
12 in 1 Universal – 5/10
All of these screen protectors can be used at the same time as most Samsung Galaxy S Cases, although the InvisibleShield Full Body protector might make some cases and holders a bit of a tight fit. You can see the full range of  Samsung Galaxy S Accessories on the main site.
Original source – http://www.mobilefun.co.uk