RadarFree app for Windows Mobile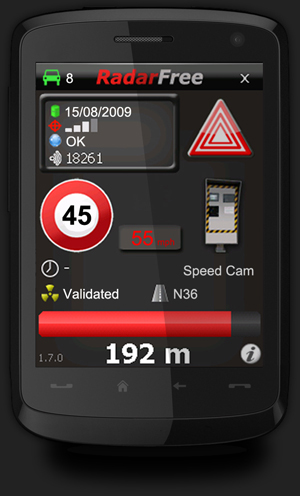 RadarFree is a real-time GPS speed camera alert application. With more than 18000 fixed speed cameras and all real-time mobile cameras in Europe, RadarFree is the best fellow traveller who warns you on every camera approach.
RadarFree technology is based on collaborative and community work. In fact, all RadarFree members can advise cameras, accidents or risks on the road to warn others on their smartphone. Once the user has advised a new camera to our server, it will automatically check the information and the message to the RadarFree community.
The camera detection algorithm has been optimized to be very practical in all situations. Whether it be on highways or in city, RadarFree will warn you only when necessary.
The graphical user interface is very light in order to quickly grab the most pertinent information: Type of camera, distance between vehicle and camera and speed limit. Also, you can declare a speed camera easily and intuitively in a few clicks.
Key features
– More than 18000 updated fixed speed cameras
– RadarFree is available in the following countries:
• Andorra
• Belgium
• Denmark
• Finland
• France
• France DOM TOM
• Great Britain
• Italy
• Netherlands
• Norway
• Poland
• Spain
• Sweden
– Real-time mobile speed cameras and alerts
– Smart camera detection algorithm taking into account camera direction and vehicle speed
– Displaying vehicle speed and speed limit
– Displaying the angle between your route and the next speed camera
– Additional services for RadarFree users: Support and forum
RadarFree may be tuned to meet your requirements:
– In order to limit data transfer, user can download new database updates with a WIFI connection before setting off.
– Switch off communication with server to preserve your phone contract.
– Camera warning tuneabl: Warning distance, alert type (sound, vibrate mode)
– Manual database update button