A guide to the best desk stands for HTC Desire
|
The Desire is a great smartphone, but it needs great content on it in order for you to really enjoy it and get the most out of it. You can transfer all your photo's, music and video's to it using the cable that it came with the phone, but let's face it, a USB cable doesn't do much to show off your fancy new phone.
If you want everyone in the office to see your new toy as they walk past, or just be able to disconnect your phone quickly and easily without fiddling around with cables, you're going to need a Desire Dock or Desire Desktop chargers.
There are a few available, so I thought I'd take a look at some of our most popular ones to see how they compare.
1. HTC Desire Desktop Charging Cradle
This is a quick and easy way to charge your phone while keeping it up to date with your latest music downloads, TV Shows and Photo's. It connects to a spare USB port on your PC or laptop and can be used with a USB Mains adapter to turn it into a stand alone charging dock. It has a blue LED indicator that lights up when your phone is charging.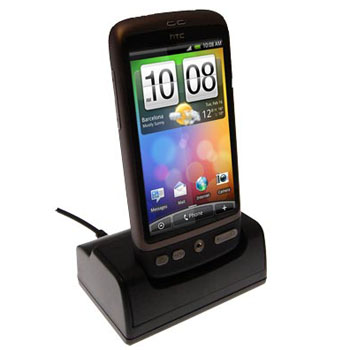 HTC Desire Desktop Charging Cradle
2. HTC Desire Dual Desktop Charging Cradle
This is essentially the same as the dock shown above, but with the addition of a built in battery charger. This makes it the perfect choice for anyone who has a spare battery for their Desire as it means you can charge both batteries at the same time, instead of having to charge one, remove it from the phone, replace it with the dead one and then start the charge cycle all over again.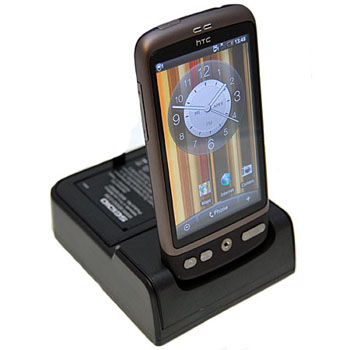 HTC Desire Dual Desktop Charging Cradle
–
3. Deluxe HTC Desire Desktop Charging Cradle
The Deluxe Charging Cradle is the most popular style of cradle . It looks excellent and has a hi-gloss finish. Behind the phone is a lift up cover that houses an additional battery charger so that you can charge a spare battery at the same time.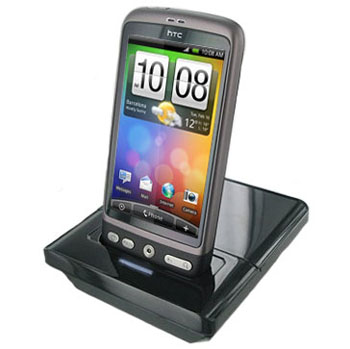 Deluxe HTC Desire Desktop Charging Cradle
–
While the Smart Stand won't charge or sync your Desire, it's still a great way to watch videos or flick through your photo's while you're at your desk and is the only custom stand for the HTC Desire that will hold your phone in landscape mode. If you want to sync content to your phone, you'll need to use a Micro USB cable. The Smart Stand has a sprung clip at the top that holds your phone securely in place and a weighted base that stops it from falling over.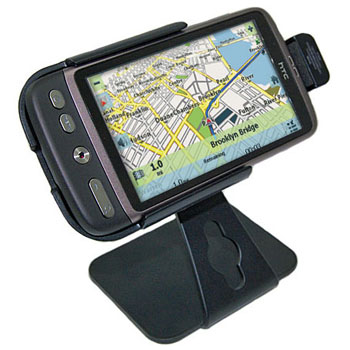 Smart Stand – HTC Desire
–
5. Desk Genie Non-Slip Charging Desk Stand
The Desk Genie is a great all round Desk Stand, but has received a mixed response in the office when it comes to the Desire. The coating on the Desire doesn't stick all that well to the Desk Genie, so unless you've got a case or cover fitted to your  Desire, you might struggle to keep it in place. On the bright side though,  the Desk Genie includes a charging cable for your phone and also doubles up as a memory card reader.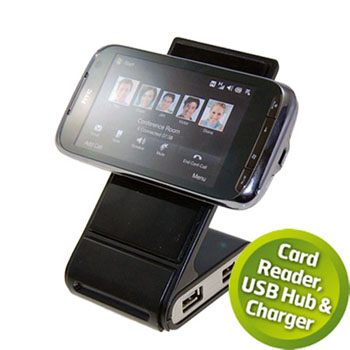 Desk Genie Non-Slip Charging Desk Stand
–
There are a number of other HTC Desire Desktop chargers available, but these are the the most popular ones at the moment. Head over to the main site to check out the full range of HTC Desire Docks.